You're a mom so you're always are bringing tons of bags with you. Am I right? You've got a bag for snacks, a bag with some school work in it, a bag with some games in it. Does this sound like you? Plus let's not forget your purse because, of course you need that!
Girl, have I got the solution for you and since I've found this out it has been a game changer for me.
The answer?
A Diaper Bag!
it's true! Even if you don't have a kiddo in diapers anymore, you need to get yourself one of these bags.
If you're like me, when your kiddos were done with diapers you wanted to throw your bag in some firepit and walk away, all gangster style like on Office Space.
But now you can go back to the bag...it will be okay. I promise.
Our kids are 10 and 12 and I carry a diaper bag. Every.Single.Day.
Now before you think I've gone off and lost my cotton picking mind...let me explain myself.
Tons of pockets and zippers and compartments.
Most diaper bags these days have a waterproof pouch. Maybe these were made for wet clothes but you can now use them for snacks. Something spills or sweats or leaks? No biggie. A contained mess in a wipeable area is aces.
There is a place for a changing pad. Take that out. You don't need that anymore. You're above that. You owned that. See? You're left with a pretty ample sized pocket. I use this to store a binder or my planner. And suddenly it's like I'm some kind of organizational wizard.
Bottle holders on the sides? Hello water bottles! Or sunglasses! Or your cell phone!
I'm telling you all, diaper bags are not just for diapers. They should just be called mom bags from the beginning because they can hold so many things. And you don't need to have a diaper bag with monkeys on the print or whatever you may have had before. You can have a cute bag that will hold everything you need it to...I kid you not!
Once I let go of the idea that I needed my own bag and then a bag for school work and a container for snacks, and a container for this and a container for that...once I could let that go I was able to accept the idea of a bag for me, as a mom. I am my own person but I am also ultimately a mother who carries the weight (literally!) of bringing things with us so instead of 27 different bags I've been diligent in finding a cute bag that suits my personality and the stage of life I'm in.
I have a stylish Coach diaper bag in a pretty blue color. This color is not the norm for Coach bags and I get so, so many compliments about it. The great part? We went to a baseball game recently and I was able to comfortably store food for my kids in it...I had 4 sodas, 2 bags of chips, 7 cookies, and two baseball hats. I'm for real here...this is why you need a diaper bag!
Here are some of my favorite bags...some of these I have and others are on my shopping want list! Like I said, I love these bags. Almost all of the "purses" I carry around these days are actually diaper bags.
Maybe one day I'll have a smallish purse again but for our life right now these work great!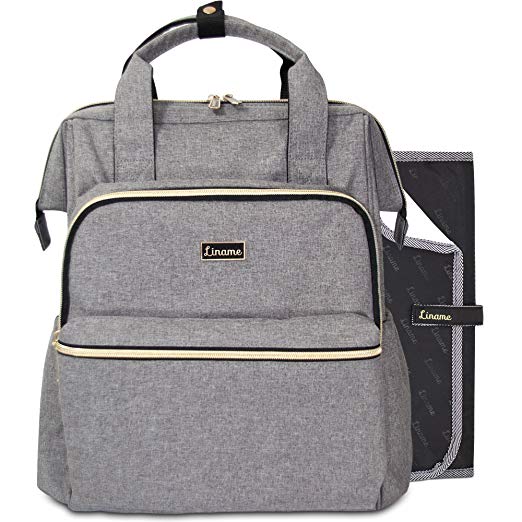 This sweet bag is on my Amazon wish list. I have friends who have this bag and I've heard rave reviews from other CC tutors who use it to bring their books to community day. I love that it can be carried as a tote or a backpack! And the color is on point. So adorable.
I have this bag and really love it for vacations! It can become a cross body or a hobo style bag with adjusting the straps. It holds tons of snacks and provides a really soft cushiony case for my DSLR. So versatile!
I don't have this striped bag but I have this in a black version and it is easily my favorite bag of all time! It has been so many places with me and I have been able to take so much with me because of this bag! The top zippered compartment is perfect for cell phone storage...it's great for people like me who lose everything and need a place for everything! Also, when my sister dumped an entire cup of coffee on my purse it cleaned up beautifully!
So those are my favorite mom bags (aka diaper bags I guess). If you have a favorite way of carrying all of the mom stuff around be sure to comment below and keep all of us friends in the know, too!
ALSO! Make sure to hunt at any children's resale events you go to for diaper bags. It's one of my favorite places to find bags. I've snagged some before for just a few bucks and they were brand new!
Happy shopping and toting all of your stuff around, friends! XO