Every year I loathe the day Nick tells me that I have to take down the tree.
I really wish I could be one of those crazy cat lady people who keep it up all year.
That's not weird, right?
But alas Cal's Birthday is the 7th of January and we like to have a party and so I have to get all of the Christmas items cleaned up before people come.
This year in an effort to not cry everysingle.day after the tree is gone, I've decided to decorate for Valentine's Day early. Usually Valentine's decorations consist of me throwing stuff up about a week before the day.
But not this year my friends, not this year!
But alas I found, I had no wreath! How can one not have a Valentine's Day wreath? So I decided to make one!!! (Impressed aren't you???) Here it is friends: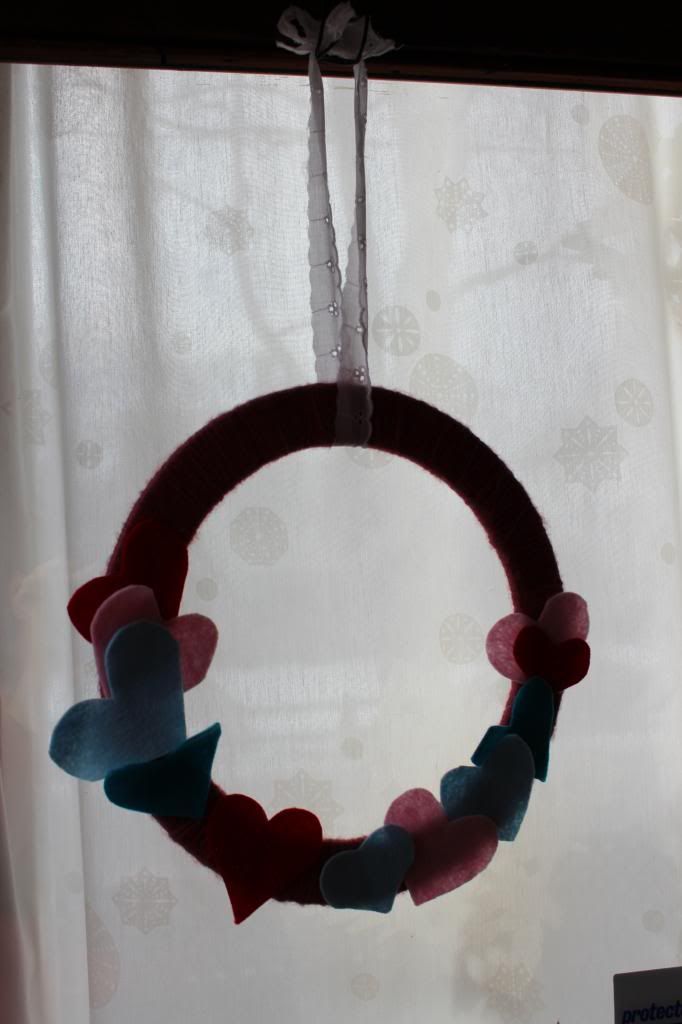 I started with these items. I am considering this a free craft because I didn't go out and buy anything for it...but of course I had to of bought them at some time, right? I bought the wreath form a huge long while back, but then could never figure out what to do with it.
<Update> You do not need to have one of these forms! You can fashion a wire hanger into a circle, cut out a circle from an ice-cream bucket, anything. Get creative!
The yarn I bought from Goodwill when Emma had a kitty cat party and we hung yarn from the ceiling...I got a trash bag of yarn for $2.00. Not bad for yarn I never really had a use for...until now!
So I wrapped the yarn around the hoop thing (was that some type of pioneer game? No?) for what felt like a kajillion nights of tv. until the darn thing was done.
By the way, I know you're loving my pjs...cooking utensils on pajama pants are hot, let me tell ya.
Then I simply free-styled some felt hearts and hot glued those puppies on. Just felt pieces I had left over from other projects.
I hung it with some sweet lace that Nick's Aunt gave us. I love when people bring me huge boxes of remnants and say "here" LOVE that...it's like a treasure!
So voila! Look around and see what you can create today! Has anyone made any fun (and maybe cheap) crafts for Heart Day???