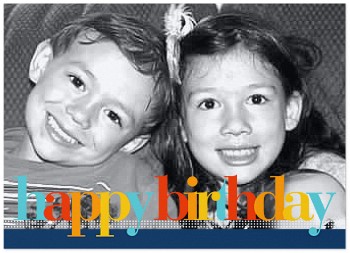 Birthday Colors Blue Birthday Card


I love this card, don't you? One of the ways that I try to help my husband is to be a good steward of the money he works so hard to make. And one of the ways that I do that is to look for free promo codes. So far this week I've made two free cards and a free magnet. I should note though that many times there is tax and shipping still charged. No biggie as long as the amount is less than you would pay for a card at the store in my opinion. If shipping ends up being $5.00 and you would only have spend $3.00 at target on a card, keep walking. Personalized cards are neat and all, but they aren't worth it if you are spending oodles.

So anyway, that is one way that I am doing my part to save money. With an average of 3 birthdays per month to send cards out for, we spend $9-$12 each month on cards. That's $108-144 a year, just on cards! Anyway I can minimize those types of costs helps us in the long run. It may not seem like much at the time, but everything adds up.